Social Program
---
ICASSP 2021 was created with a focus on interaction between all attendees, networking, and relationship building. We encourage all attendees to participate in some or all of the below events to get the most out of the conference experience. We also hope and encourage attendees to meet in the virtual conference venue at any point during the conference, exchange contact information and reach out to each other to meet up during ICASSP week and beyond.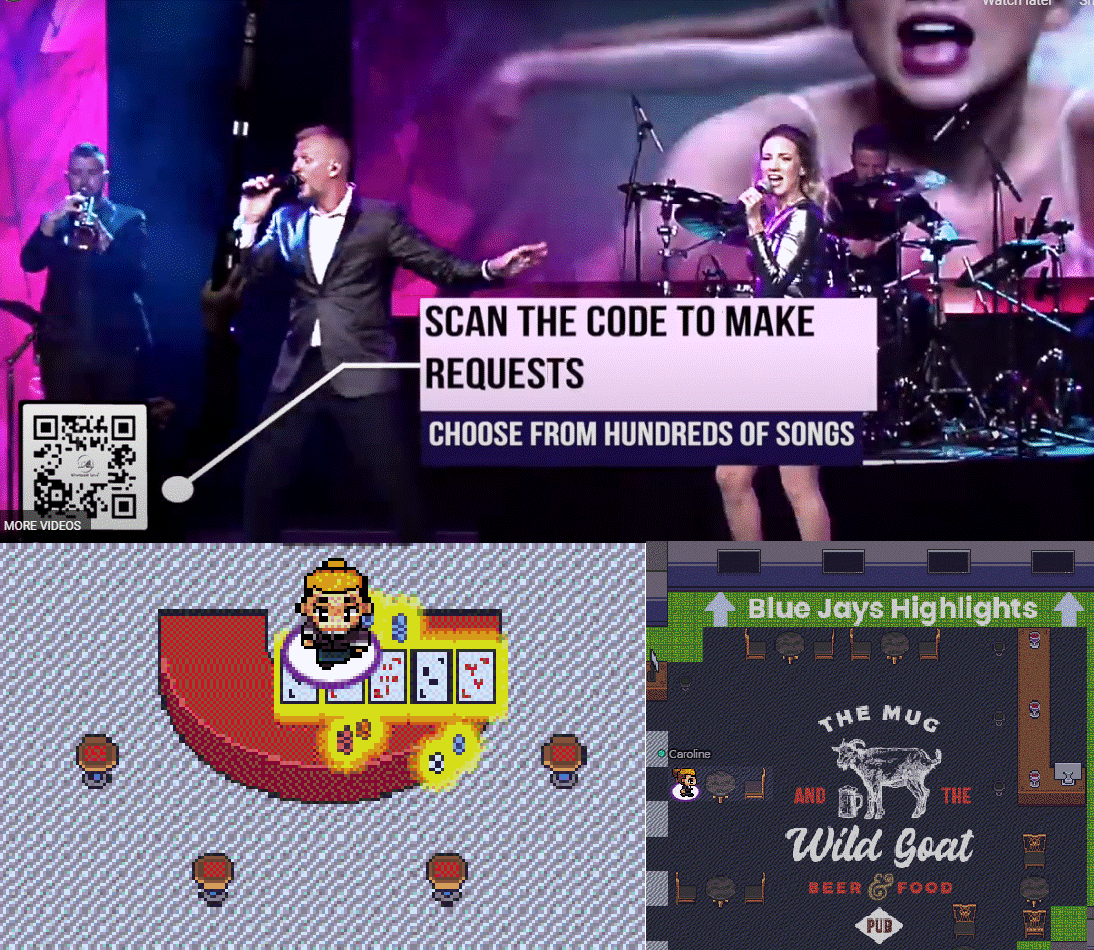 Welcome Reception
Monday, June 7, 18:00-20:00 EDT (UTC-4)
Meet up with your fellow attendees in the avatar-based virtual conference venue, Gather.Town to network virtually, familiarize yourself with the venue, video chat with attendees, and discover games and surprises within the platform.
Join by 18:30 for a not-to-be-missed event! uRequest Live, a 10-piece live band based in Toronto, will be performing in the virtual conference ballroom! The live band performance is enhanced with interactive technology that allows the audience to make decisions collectively to influence the outcome of the show. From choosing which decade, genre, and songs should be played to even deciding which singers should sing the songs and which instrumentalists should be featured. Get 'Happy' listening to the band as you wait for ICASSP to start!
uRequest Live has garnered international praise, awards, and press for their trailblazing and innovative audience curated concert experiences including most recently, "Best Virtual Entertainment Act" at the 2021 BizBash Event Style Awards.
Wake Up Yoga – Breathe and Flow
Tuesday, June 8 - Friday, June 11, 08:00-09:00 EDT (UTC-4)
Start your day with your ICASSP colleagues in this live instructor-led Virtual Yoga class each morning. Each class will open with a timely dialogue with intention setting for the day, followed by a series of poses blended together to create heat and energy flow. The instructor will provide move, breathe and stretch exercises with time to mentally engage with the body, making the classes suitable for all levels. Sequences will challenge the mind and body, offering physical space and mental balance. Join us and set yourself up for a great day at virtual ICASSP.
Cash Cab Trivia with Canada's Host, Adam Growe
Tuesday, June 8 from 18:30-19:30 EDT (UTC-4)
Join fellow attendees and the ICASSP 2021 hosts, in a live comedy quiz show modeled after the television show, Cash Cab. In this virtual game show, all attendees can participate and answer questions and mini games. For over 30 years, Adam Growe has been performing in radio, television, and on-stage. In addition to hosting 8 seasons of Cash Cab, Adam is a highly sought after event host and an accomplished stand-up comedian, starring in Just for Laughs, Comedy NOW!, COMICS!, and appearing on CBS's, Star Search and Comedy Central's, Premium Blend.
Virtual Highlights Tour of Toronto
Wednesday, June 9, 18:30-19:30 EDT (UTC-4)
We will take a virtual tour of Toronto's iconic sites, including St. Lawrence Market, Casa Loma, the Distillery District, Waterfront, and many more. I will touch on everything from history to current culture, to give you a really good sense of what it is like to see and experience my city, as well as what it is like to be a Torontonian. Toronto is North America's 4th largest city, and the most diverse on the planet! This is a 45minute tour, and includes original photography and video accompanied by my live commentary.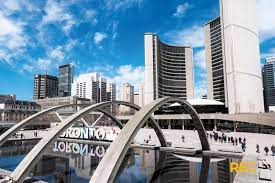 Virtual Art and Architectural Gems of Toronto
Thursday, June 10, 18:30-19:30 EDT (UTC-4)
I will focus on some stand-out public art pieces (2021-22 is Toronto's Year of Public Art) all around the city, as well as buildings of architectural significance; Canada's one and only Frank Gehry building-the Art Gallery of Ontario, the flatiron building, which is older than the one on New York city, and a beautiful Calatrava atrium, as examples.
This is a 45-minute tour, and includes original photography and video accompanied by my live commentary.
About our tour guide, Felicia: Felicia took up guiding as a 2nd career, 7 years ago, after working in the Photographic industry, with a passion for visual arts and culture. She is a Montreal-born, two times Torontonian, and really enjoys showing people what Toronto has to offer-which can be pleasantly surprising! Felicia is also a dedicated volunteer and volunteers at Art Gallery of Ontario, Toronto International Film Festival (TIFF), Jane's Walks, Art Toronto, and many other organizations. She loves to be active and pursues many creative interests like jewelry-making, knitting, mosaic, and other handicrafts. She is also passionate about Food and Wine, and loves to show visitors the Niagara Wineries, as well as other regions in Canada.